Is mijn foto geschikt voor op canvas?
---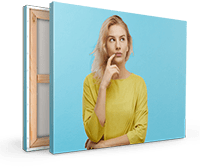 Nu resolutie eigen foto testen:

Hier klikken of
de foto hierheen slepen
---
Jouw eigen foto testen is eenvoudig! Sleep de foto in het omlijnde veld of gebruik de oranje knop. De resolutie van je beeldbestand wordt automatisch gecontroleerd. Als de foto geschikt is, kun je vervolgens meteen de mogelijke formaten voor jouw foto op canvas bekijken.
---
Resolutie foto op canvas – tips van de expert
Niet iedereen heeft ervaring met beeldbewerking of is bekend met de vereisten om een bestand op canvas te kunnen afdrukken. Met eenvoudige regels kan iedereen een goed resultaat bereiken bij het printen op canvas. We hebben onze beste tips voor je op een rijtje gezet.
Tip: Het bestandsformaat JPEG is het meest geschikt voor het overbrengen van een foto op canvas.
Tip: Een JPEG van slechts 2 MB heeft al voldoende resolutie om een foto op canvas van te maken.
Tip: We bieden de canvas foto in twee framediktes. De 4 cm galerie uitvoering heeft duidelijk een luxere uitstraling.
volgende tip
---
Welke resolutie moet mijn foto hebben?
Om een foto op canvas te drukken, moet jouw originele bestand een goede resolutie hebben. Bereken hier de resolutie en dus de beeldkwaliteit voor een foto op canvas:
---
Welke resolutie heeft het bestand nodig?
Hoe groot kun je een bestand afdrukken?
Gewenste formaat canvas in cm:
---
Hoogte (cm)

×
Breedte (cm)

=
Minimale resolutie in pixels
1900 x 1900 px
---
De resolutie van jouw bestand in pixel:
---
Hoogte (Pixel)

×
Breedte (Pixel)

=
Maximale formaat canvas
80 x 80 cm
---
---
---
JPEG, TIFF of PDF - welk bestandsformaat is geschikt?
Welke bestanden zijn geschikt om een canvas foto van te maken? Het JPEG-formaat (=JPG) wordt het meest gebruikt. Dit standaardformaat biedt de beste combinatie van bestandsgrootte en beeldkwaliteit. Daarom wordt 95% van alle canvas prints gemaakt met een JPEG-bestand. De afdrukresultaten van een canvas foto zijn al goed bij een beeldresolutie van 100 dpi. Zeker als de comprimering op het hoogste kwaliteitsniveau is ingesteld.
Het TIFF-formaat is een beeldformaat dat soms door digitale camera's wordt gebruikt. Een TIFF-bestand heeft echter veel meer geheugen nodig dan een JPEG-bestand.
Het kleine voordeel van de (nauwelijks betere) afdrukkwaliteit wordt dus teniet gedaan door de beduidend langere uploadtijden bij de beeldoverdracht. Een TIFF-bestand moet voor de bestelling altijd worden geconverteerd naar een JPEG-bestand.
Het PDF-formaat is tegenwoordig de standaard voor het uitwisselen van printbestanden voor digitaal drukwerk. Een PDF-formaat is niet nodig voor foto's op canvas.
---
Verbetert een kleurprofiel het afdrukresultaat op canvas?
Bij het printen op canvas zorgt het kleurprofiel ervoor dat de kleuren identiek op het doek worden overgedragen. Dit is nodig bij het drukken van logo's en CI-kleuren voor bedrijven, maar ook voor een precieze uitvoering van artistieke specificaties. Wij accepteren twee standaard kleurprofielen: Adobe-RGB en S-RG. Zwart-wit foto's op canvas moeten als monochrome beeldbestanden worden overdragen, om ongewenste kleureffecten te voorkomen.
---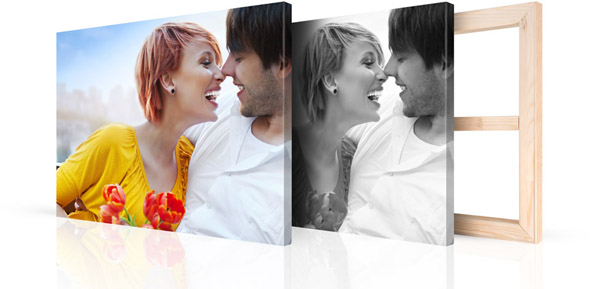 ---
Verdere tips: