1. Foto uploaden

2. Formaat kiezen

3. Canvas foto bestellen

---
Zwart-wit foto op canvas
De zwart-wit foto geldt als de klassieker in de wereld van de fotografie. Hij heeft zijn complete eigen emotie. Vandaag de dag nemen zwart-wit foto's een bijzondere positie in. Ze hebben een elegante en artistieke uitstraling. Bovendien wekken zwart-wit foto's de indruk meer diepte te hebben. Door de eenvoud heeft de toeschouwer de mogelijkheid zich meer op het verhaal achter de foto te concentreren, want soms kunnen felle kleuren juist afleiden. Vooral voor opnames met de nodige emotie, zoals een omarming van een geliefde, is een canvas zwart-wit zeer geschikt.
De ambitieuze zwart-wit fotografie brengt niet alleen geweldige foto's voort, de afbeeldingen inspireren ook op canvas door de sensationele scherpte en diepte. Een canvas zwart wit overtuigt door expressie en materiaaleffect. Vooral op een groot formaat frame gespannen, bijvoorbeeld het galerie-spanraam met 4 cm dikke randen, is de zwart-wit foto op canvas een hoogtepunt in iedere woning.
Tip: Zet je foto om in grijstinten of gebruik onze zwart-wit functie om een perfect printresultaat te bereiken.
---
---
---
Foto op canvas zwart-wit afgedrukt
Zwart-wit foto's op canvas leven van een goed contrast. Bestaat een foto overwegend uit grijstinten, dan kan de canvas zeer overtuigend werken. Wie de uitgekozen foto achteraf wil optimaliseren, verhoogt gewoon het contrast met een paar procent.
Voordat je je zwart-wit foto's op canvas kunt bestellen, moet je je fotobestand in een echte zwart-wit foto omzetten. Verander daarvoor gewoon de kleur van de foto in een foto-bewerkingsprogramma naar monochroom. Zo ben je er zeker van dat je een echte zwart/wit-foto krijgt en er geen ongewenste effecten ontstaan bij het afdrukken.
Wist je dit al? Meer dan 250.000 klanten zijn dolenthousiast over onze producten. 97% waardeert ons met GOED of ZEER GOED.
---
Zwart wit foto's op canvas in XXL
Een foto op canvas in zwart wit is perfect om in XXL-formaat te presenteren. We bieden de canvas zwart wit in grote formaten tot 210x140 cm aan. Deze worden op een bijzonder stevig spanraam gemaakt. Het is kinderlijk eenvoudig om een foto op canvas af te drukken.
Verdere informatie
Zwart-wit info
Prijzen
Levertijden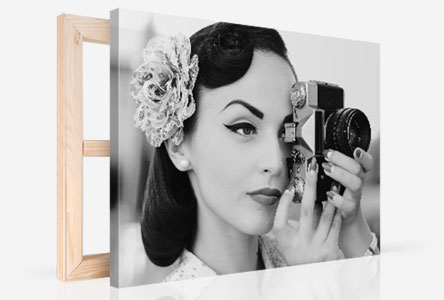 Foto in zwart wit op canvas informatie
Directe omzetting in zwart-wit
Met live preview
Kant-en-klaar canvas op houten frames
Kwaliteit 'Made in Germany'
---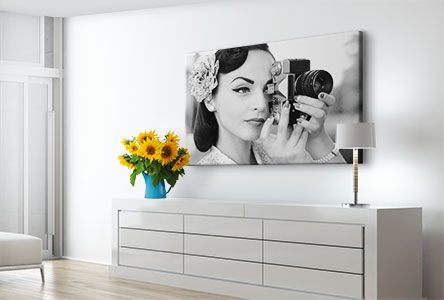 Detailinformatie
Automatische omzetting van kleurtonen naar grijstinten
Afgedrukt op een echt canvas van 360 g/m² katoen in hoge kwaliteit met fijne structuur
Gespannen op een echt houten frame + 8 klemmen om na te spannen
Druktechniek met de nieuwste technologie van
HEWLETT PACKARD© (HP – True Color Technology)
Milieuvriendelijk product, want 99% van het product wordt van duurzaam materiaal gemaakt
Jouw zwart-witfoto op canvas is verkrijgbaar op een houten frame in de volgende diktes: 2 cm / 4 cm
Formaat
Adviesprijs
Prijs
Formaat selecteren

XS

20 x 20 cm

29,00 €

19,00 €

30,00 €

kiezen

XS

30 x 20 cm

20,00 €

25,00 €

kiezen

XS

30 x 30 cm

25,00 €

35,00 €

kiezen

XS

40 x 30 cm

59,00 €

30,00 €

40,00 €

kiezen

XS

40 x 40 cm

30,00 €

40,00 €

kiezen

S

50 x 50 cm

45,00 €

55,00 €

kiezen

S

60 x 40 cm

69,00 €

45,00 €

55,00 €

kiezen

S

70 x 50 cm

50,00 €

63,00 €

kiezen

M

80 x 60 cm

89,00 €

65,00 €

75,00 €

kiezen

M

90 x 60 cm

99,00 €

70,00 €

90,00 €

kiezen

L

120 x 80 cm

100,00 €

115,00 €

kiezen

XL

150 x 100 cm

150,00 €

170,00 €

kiezen
Korting op verzendkosten vanaf 2 producten van hetzelfde formaat.
Alle formaten en prijzen
Prijzen inclusief btw.
Wanneer wordt jouw zwart-witfoto op canvas geleverd?
Gewenst formaat
Verzenden naar
VANDAAGNu
bestellen

24 uurs*
EXPRESSLevering
gegarandeerd

PRIO**Levering
schatting

STANDAARDLevering
schatting

ma
di
wo
do
vr
za
zo
ma
di
wo
24
jan.
25
jan.
26
jan.
27
jan.
28
jan.
29
jan.
30
jan.
31
jan.
01
feb.
02
feb.
Bestel op werkdagen voor 12 uur:
* Gegarandeerde levering de volgende werkdag
** Priority productie en standaard levering
Wij bezorgen met

---
Verzenden naar
| | Formaat | 24 uurs EXPRESS upgrade | PRIO upgrade | Verzending |
| --- | --- | --- | --- | --- |
| XS | 30 x 20 cm | 58,95 € | 5,95 € | 8,95 € |
| XS | 40 x 30 cm | 58,95 € | 5,95 € | 8,95 € |
| XS | 45 x 30 cm | 58,95 € | 5,95 € | 8,95 € |
| S | 60 x 40 cm | 58,95 € | 7,95 € | 11,95 € |
| S | 60 x 45 cm | 58,95 € | 7,95 € | 11,95 € |
| S | 75 x 50 cm | 58,95 € | 7,95 € | 11,95 € |
| M | 80 x 60 cm | 58,95 € | 7,95 € | 11,95 € |
| M | 90 x 60 cm | 89,95 € | 9,95 € | 14,95 € |
| M | 100 x 75 cm | 89,95 € | 9,95 € | 14,95 € |
| M | 105 x 70 cm | 89,95 € | 12,95 € | 19,95 € |
| L | 120 x 80 cm | 89,95 € | 12,95 € | 19,95 € |
| L | 120 x 90 cm | 89,95 € | 12,95 € | 19,95 € |
Prijzen inclusief btw.
Korting op verzendkosten vanaf 2 producten van hetzelfde formaat
Alle verzendprijzen en levertijden
---
---
Dit zou je ook kunnen interesseren