Zowel de foto op aluminium als de foto op plexiglas zijn hoogwaardige materialen voor moderne wanddecoratie. Ze worden echter anders gebruikt. Aluminium is geliefd voor fototentoonstellingen, terwijl plexiglas in interieur design een veelgevraagd trendproduct is. Plexiglas of aluminium? We zetten de verschillen op een rijtje!
---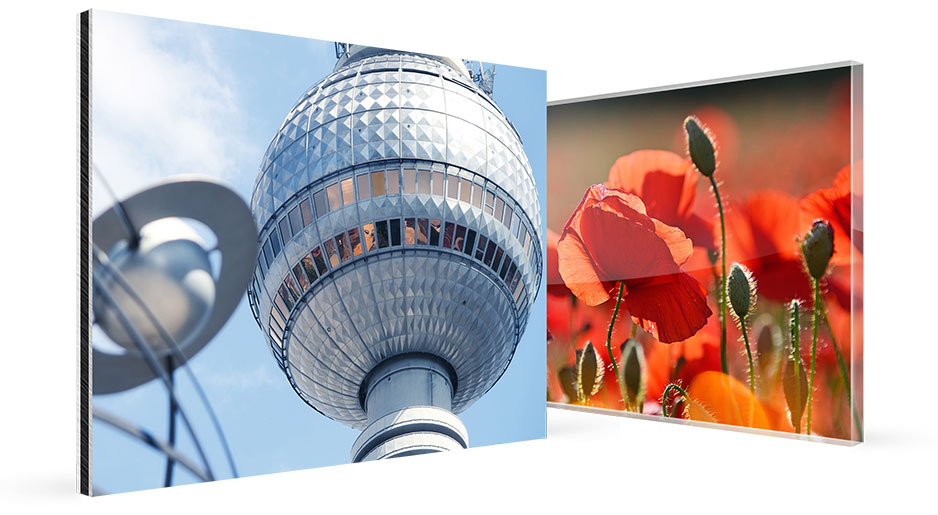 ---
Aluminium
Plexiglas
Zijdemat oppervlak
Hoogglans oppervlak
Volledig CMYK kleurenspectrum
Volledig CMYK kleurenspectrum + wit
Metallic uitvoering
Diepte-effect bij 8 mm, incl. gepolijste randen
Geschikt voor buiten
Pflegeleichte Glasoberfläche
Direktdruck in opdruk
Direktdruck incl. witdruk achter glas
"Vrij zwevend" ophangsysteem mogelijk
"Vrij zwevend" ophangsysteem mogelijk
Prijsvoorbeelden:

wit, 20x20 cm = 19 EUR
wit, 80x60 cm = 65 EUR
metallic, 80x60 cm = 65 EUR
metallic, 120x80 cm = 100 EUR
Prijsvoorbeelden:

3 mm, 20x20 cm = 19 EUR
3 mm, 80x60 cm = 65 EUR
8 mm, 80x60 cm = 165 EUR
8 mm 120x90 cm = 250 EUR
Professionele fotografie, kunst, tentoonstellingen, architektuurfotografie, enz.
Modern woondesign, trendmateriaal, kantoor of praktijk, gastronomie
---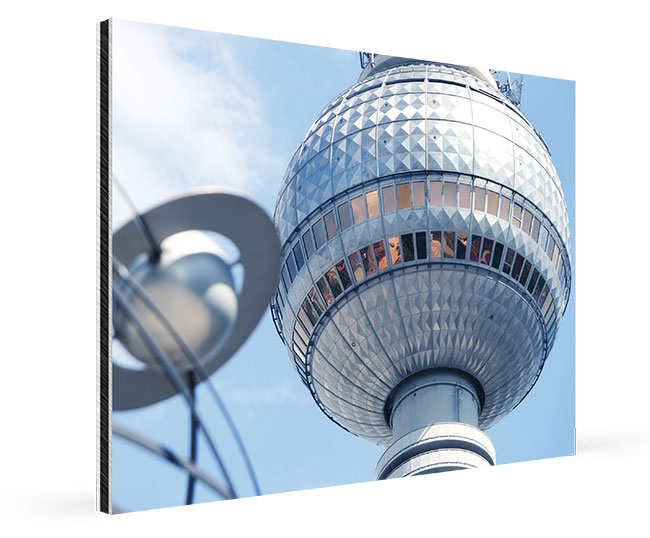 Foto's op aluminium
Perfect voor artistieke fotografie: hoge kleurdiepte en scherp contrast.
---
Verzendklaar:
maandag, 6 dec 2021
---
---
Veelgestelde vragen aluminium
Wat is aluminium dibond?

Aluminium dibond is een samengesteld materiaal dat bestaat uit twee lagen aluminium rondom een kern van polyethyleen. Het hoogwaardige oppervlak is bijzonder goed geschikt voor foto afdrukken. Door de drielaagse opbouw is aluminium dibond uitzonderlijk sterk en stabiel. Het materiaal is weerbestendig en kan ook buiten worden gebruikt.

Hoe kun je een aluminium foto ophangen?

Er zijn verschillende ophangsystemen. Het ophangsysteem COUPLE op basis van lijm is geschikt voor kleine en middelgrote foto's. Het is een zogenaamd "blind" ophangsystemen, het geeft de foto een zwevend effect. Voor deze ophanging is boren in de foto niet nodig. Voor veilige bevestiging aan de muur van groot formaat foto's op aluminium raden wij de ophangsystemen STEEL of HARRY aan.

Meer over foto op aluminium ophangen

Is aluminium geschikt voor de badkamer?

Het materiaal is robuust en weerbestendig. De ideale eigenschappen voor gebruik in vochtige ruimtes. De directdruk print op aluminium is lang houdbaar en licht in onderhoud. Een afbeelding die op aluminium wordt geplakt (er zijn werkelijk bedrijven die dat verkopen) zou in een vochtige ruimte al snel loslaten.

Zijn foto's op aluminium geschikt voor buiten?

Ja! Het materiaal is weerbestendig en robuust. Aluminium dibond kan dan ook met succes worden gebruikt in de buitenruimte.

Hoe werkt de fotoafdruk?

Aluminium kan tegenwoordig door directdruk worden bedrukt. Het resultaat dat wordt bereikt met moderne druktechnieken is voor een leek eigenlijk niet te onderscheiden van de chemische foto ontwikkeling.Foto's op aluminium worden daarom ook voor grote foto tentoonstellingen gebruikt.

Directdruk of opgeplakt fotopapier: was is beter?

Directdruk! Het plakken van fotopapier op aluminium was 10 jaar geleden populair, om zo de eigenschappen van het aluminium te kunnen combineren met foto ontwikkeling. Dat was vroeger.

Nu directdruk betere afdrukresultaten oplevert als normale ontwikkeling, wordt de oude methode eigenlijk niet meer gebruikt. Directdruk resulteert niet alleen in betere beeldweergave, in tegenstelling tot opgeplakt fotopapier laat het ook niet los!

Hoe zwaar is aluminium dibond?

Het lage gewicht is een van de belangrijke redenen om het materiaal te gebruiken. De 3mm dikke aluminium dibond platen wegen zo'n 3,8 kg per kwadraatmeter.

Wat is geborsteld aluminium (Butler finish)

Normaal gesproken wordt aluminium met een wit oppervlak bedrukt. Bij de optie geborsteld (metallic) aluminium worden de wittinten weggelaten. Er ontstaat hierdoor een glanzende metallic look waarin het geborstelde aluminium zichtbaar is in de afbeelding. Dit is bijvoorbeeld bijzonder geschikt voor architectuur fotografie.
---
Foto op plexiglas
Foto's als modern woondesign achter hoogglanzend oppervlak. De 8 mm-uitvoering heeft een driedimensionaal effect.
---
Verzendklaar:
maandag, 6 dec 2021
---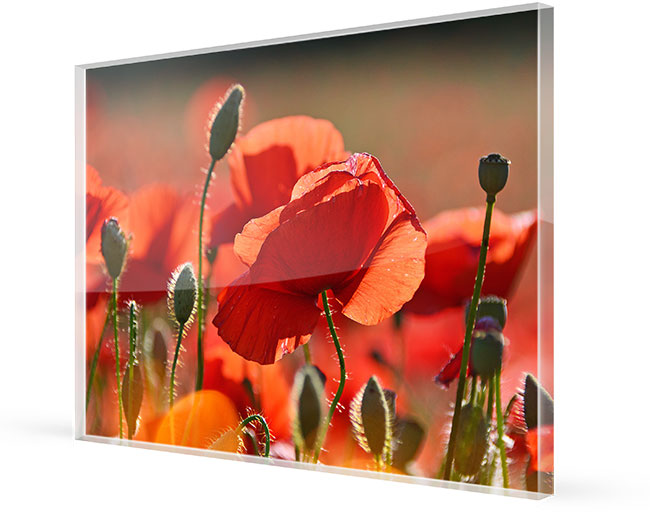 ---
Veelgestelde vragen plexiglas
Wat is acrylglas of plexiglas?

Acrylglas is een technisch glas. Het werd in 1928 uitgevonden en is tegenwoordig ook wel bekend onder de naam plexiglas. Het wordt wereldwijd gebruikt voor o.a. auto- en vliegtuigbouw, halfgeleiders, horloges en voor foto afdrukken.

Hoe kun je een foto op plexiglas ophangen?

Er zijn verschillende methoden om plexiglas aan de muur te hangen. Het ophangsysteem COUPLE is geschikt om kleine of middelgrootte foto's zonder boren op te hangen. Zo ontstaat een zwevend effect. Voor zwaardere plexiglas afbeeldingen zijn de ophangsystemen HARRY of STEEL bijzonder geschikt om jouw foto veilig aan de muur te hangen.

Meer over plexiglas ophangen

Hoe kun je plexiglas schoonmaken?

Plexiglas kan met een neutraal schoonmaakmiddel worden gereinigd. Het is belangrijk daarbij geen materiaal te gebruiken dat krassen kan veroorzaken. Let op: een microvezel doek kan kleine krasjes veroorzaken. Verwijder vuil daarom met een katoenen doek.

Meer over foto op plexiglas schoonmaken

Kun je bedrukt plexiglas met LED verlichten?

Plexiglas foto's zijn perfect om te verlichten. Door de directdruk op plexiglas hebben de afbeeldingen een hoge lichtdoorlatendheid, zodat ze met LED's verlicht kunnen worden. De LED verlichting kun je hiervoor eenvoudig aan de achterkant bevestigen.

Meer over plexiglas verlichten

Kun je foto's op plexiglas buiten ophangen?

Ja. Plexiglas is robuust en weerbestendig. Het heeft buiten duidelijk een langere levensduur als normaal glas. Het is als beelddrager dus perfect geschikt voor buiten.

Hoe zwaar is plexiglas?

Een groot voordeel van plexiglas is het lage gewicht in vergelijking tot normaal glas. Het weegt zelfs net wat minder dan de helft van mineraalglas. Het gewicht is ongeveer 1,18 g/1 cm3. Je kunt vooraf uitrekenen hoeveel jouw foto op plexiglas gaat wegen op onze pagina resolutie en gewicht berekenen

Wat is het verschil tussen plexiglas en glas (mineraalglas)?

Er zijn vele verschillen tussen plexiglas (acrylglas) en vensterglas (mineraalglas). Voor het afdrukken van foto's zijn de belangrijkste verschillen de hogere lichtdoorlatendheid en het lage gewicht van plexiglas. Hierdoor zijn de kleuren sprekender en kun je de foto makkelijk ophangen. Daarnaast is plexiglas veel minder breekbaar als normaal glas.
---
Technische details vergeleken
---

Plexiglas

Aluminium
Minimale resolutie
150 DPI
150 DPI
Max. DPI in overdracht
1.200 DPI
1.200 DPI
Minimale grootte
20 x 20 cm
20 x 20 cm
Maximale grootte
240 x 120 cm
240 x 120 cm
Gewicht (bij 100 x 100 cm)
3 mm = ca. 3,5 kg
8 mm = ca. 9,5 kg
ca. 3,8 kg
Weerbestendig
Brandklasse
B2
B2
Opties
Glasdikte
3 mm of 8 mm
Oppervlak
wit of metallic
Prio productie
24h-Express
t/m formaat
120 x 80 cm
100 x 75 cm
Prijs
vanaf 19,- EUR
vanaf 19,- EUR